Big dreams and grand style come together to create a castle of individuality and opulence against the inimitable New York skyline. The luxurious Penthouse B in Soho, New York borrows from the rich aesthetics of Eastern Asia, the Art Deco and the industrial sensibilities of 1960s modernism. The duplex has been refurbished by architect Edward Siegel of Cooper, Robertson & Partners in collaboration with interior designer Ernest de la Torre.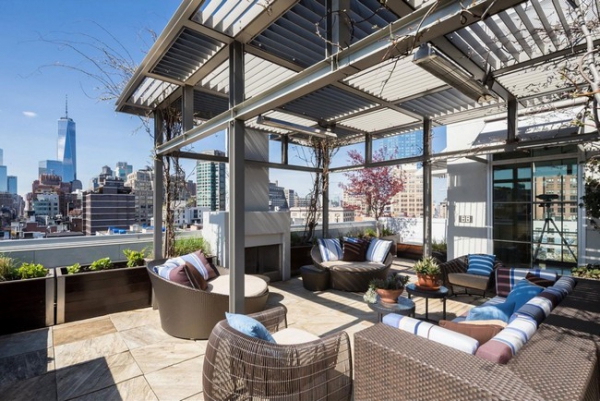 The layout and spaces of this luxurious penthouse are generous and elaborate with three bedrooms, two and a half bathrooms and four individual terraces to enjoy comfortable living against splendid backdrops.
The apartment is accessed via the lower level which accommodates a foyer and powder room leading to the main social area. The fully fitted kitchen, study, guest bedroom and bathroom are also located on this level. A linear terrace offers a spill-over for social activities and informal living. The upper level is a tad bit more private with the master suite, a secondary powder room as well as a hot tub terrace. This level also offers a fabulous outdoor experience with its lush private garden spread across 1,145 square feet.
The décor is just as indulgent as the apartment that houses it- the rooms are filled with inviting, warm colors and rich textured furnishings that let you find your own place among them. All in all, the luxurious Penthouse B is crafted in elegance, luxury and undaunted flair and offers a multitude of experiences amid an exciting urban setting.