Breaking away from the bland minimalism that is typical of interior renovations in the city, this private apartment in Yekaterinburg, Russia takes on a richer Ottoman vibe to inject life and luxury into its spaces. Interior Designer Olga Starikova moves beyond the client brief to give this stunning apartment interior a strong identity that impresses and inspires. Modest in size, spread over no more than 100 square meters, the interiors integrate a rich tapestry of Eastern vibes with modernist design to create an intriguing aesthetic that beckons and draws the visitor into it.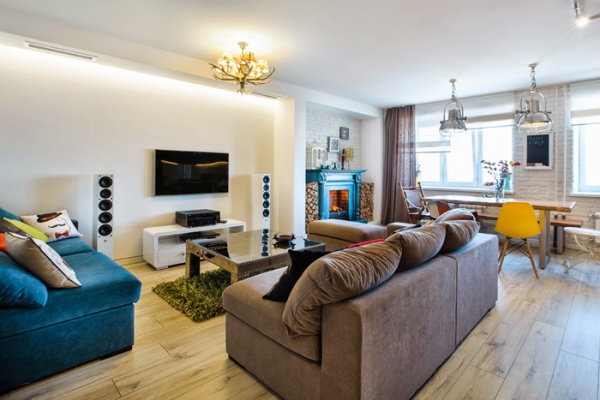 The genius of this design lies in the individual attention given to every function, space and corner, and the tailoring and treatment of its elements to create unique architectural dialogues. Embracing a penchant for the unpredictable, the stunning apartment interiors on display here combine the old and the new, the modern and the historic into a playful balance of ideas and inspirations.
The design also makes space for the simpler dreams of its occupants. The master suite, for instance, is rendered in a sea of serene whites on the request of the client. In distinct contrast to the remainder of the design, this space offers silent moments away from the pulse and life that reverberates through the social core.