Beautifully designed, stylish, and Asian influenced. These three things describe this wonderful minimalist interior design. The carefully arranged home was created by W.C.H Design Studio. Variations of white, black, and natural light wood fill the rooms, maintaining the same color palette throughout the apartment.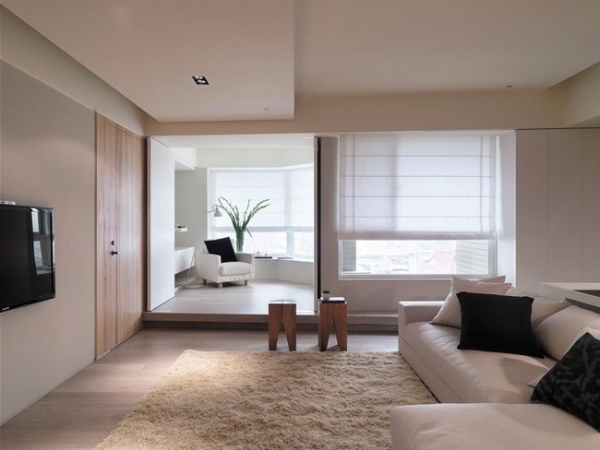 The living room is outstandingly chic. A creme shag rug, sits on the floor in front of the plush sofa. The black luxurious pillows add variety and contrast to the space. The natural wood stools are neatly placed, creating an enclosure for the sofa area. The wood door and the neutral walls look fantastic together, offering a minor change in the color palette. Behind the sofa, sits a modern white office desk, with a black leather inset. The large and intriguing black and tan artwork frames the area around the desk, as well as the rest of the room. The cremes and whites in this room, open the space up, making it airy and light.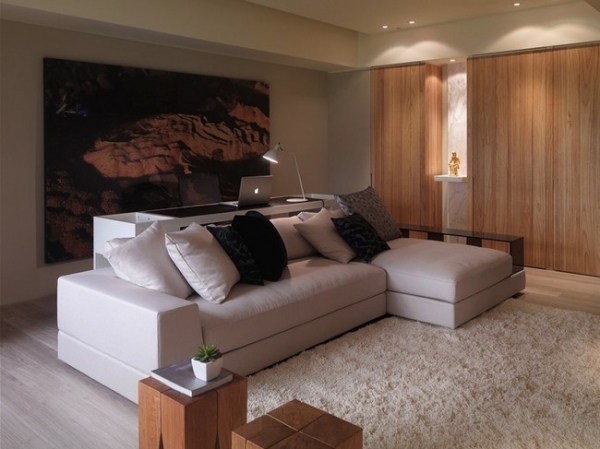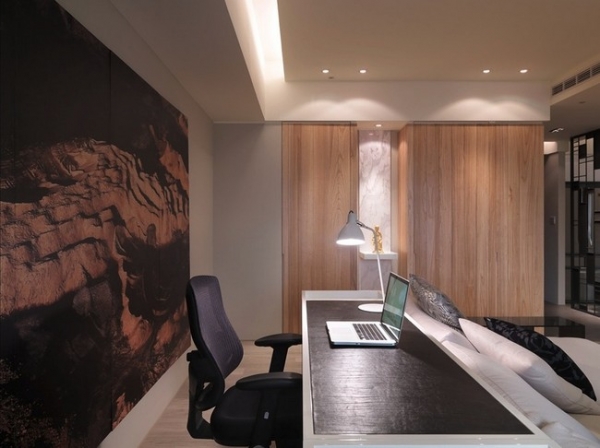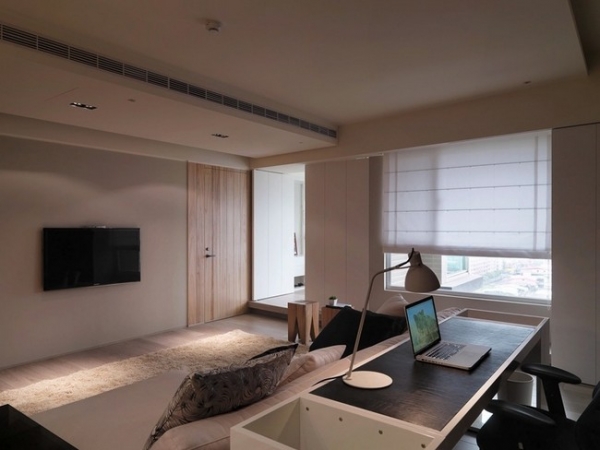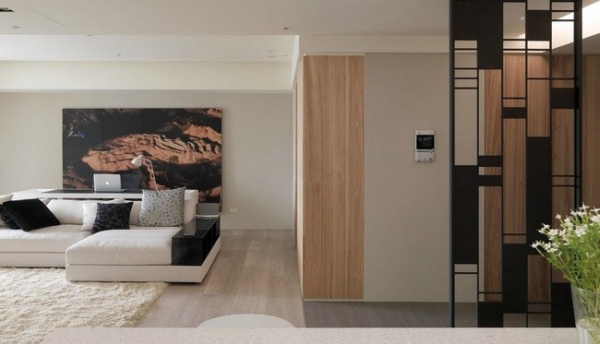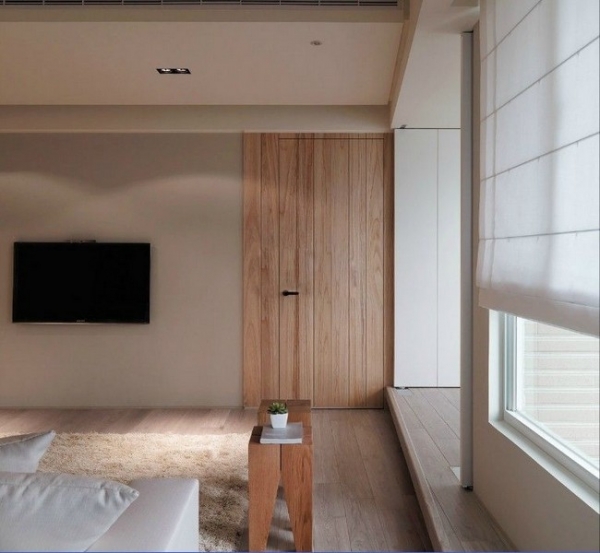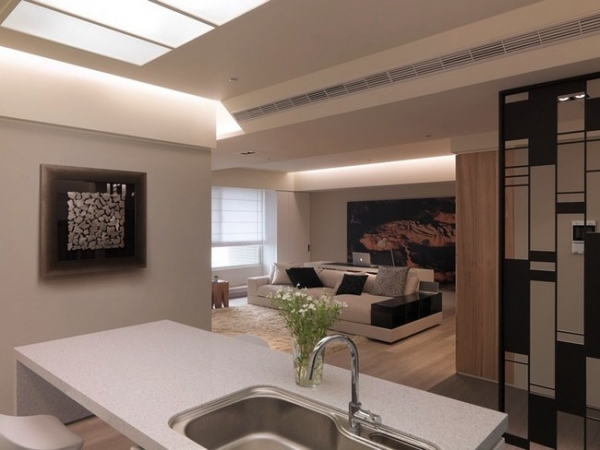 Separating the kitchen from the living room, a black iron divider stands. The divider is an impressive structure, almost gate-like, with long rectangle openings. In the kitchen, the color palette continues with a white that's a little bit brighter. The kitchen is just as calming and luxurious as the rest of the home. It has a simple creme countertop and stainless steel appliances.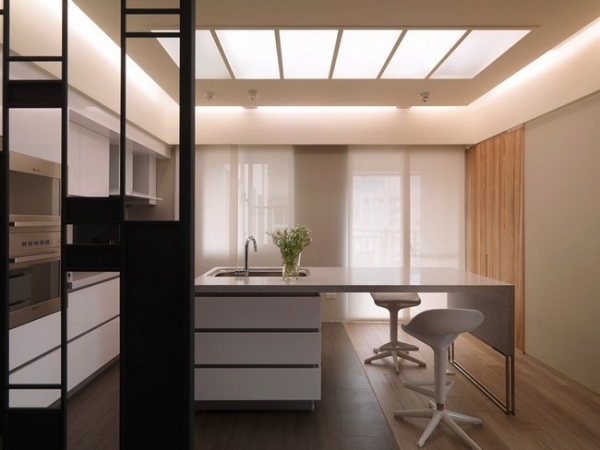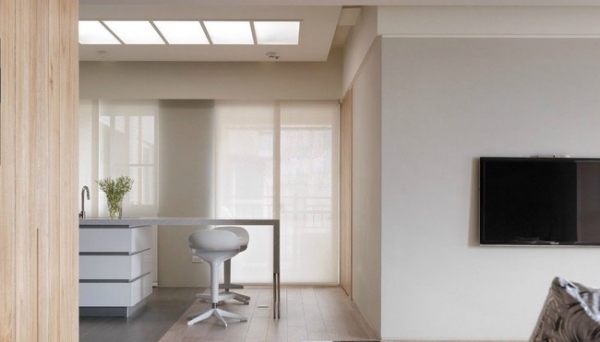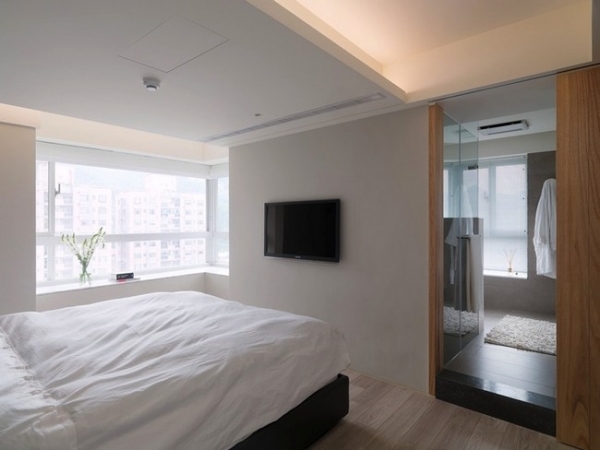 The minimalist interior design is just as delightful in the bedroom. There is a large inviting snow white bed, up against a black wall, tying in the accent black features in the rest of the home. Off-white walls and a large window make this room seem extremely large and spacious. A black floor divider and natural wood lead into the bathroom, which is outfitted with neutral floors and walls, a lovely glass shower, and a large window.
The minimalist interior design in this home is effortless and peaceful. A strict color palette and a small amount of decoration, fashion this home into a stylish and serene living space.