The Pierre I Serbie apartment, located in the uber-posh Golden Triangle area of Paris, brings us a distinct medley of the history and the future of Parisian design – through every frame and detail. Spread across the fourth floor of a Haussmannian building built in 1860, this 270 square meters boutique apartment is encrusted in beauty.
Enjoying glorious views of the city, this luxury apartment design by interior designer Gérard Faivre offers unique three-dimensional explorations within the rich context and possibilities on offer here.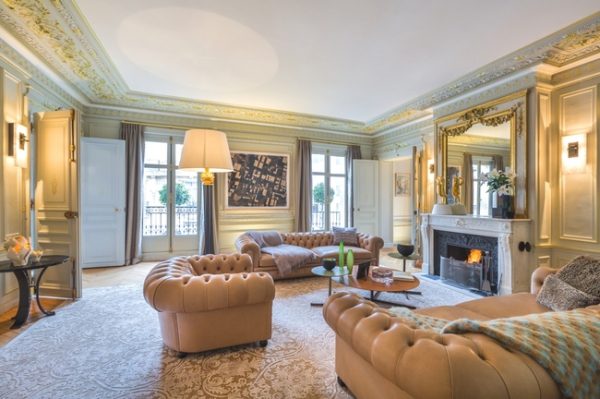 The primary aesthetic and indulgence of this design derives from the opulence of its space, detail and history. Faivre had the building painstakingly restored, bringing the ornate moldings back to life with gold and silver foil. The original 'Point de hongrie' wood parquet flooring and marble fireplaces were also restored, further recapturing and defining the original essence and flavor of the apartment.
This romance and nostalgia is crisply anchored by a series of contemporary furnishings – bold in color, texture and form, lending a brave and deliciously unpredictable personality to each space and experience. The wall art and choice of motifs too move between a broadly-drawn spectrum, creating unique compositions in space and time.
What results is a rich and fascinating spatial rendering of grand proportions and ambitions. The eye here is drawn to float upon a sea of style, element and ideas, deftly mutating to lend this luxury apartment design more than its fair share of character.