Spectacular views of the River Dnipro and the urban surround fade away into the backdrop in this eye-catching residence in Dnipropetrovsk, Ukraine. Studio SVOYA create arresting backdrops within the apartment interiors that contrast and play beautifully with the refined elegance of the furnishings and apartment decor.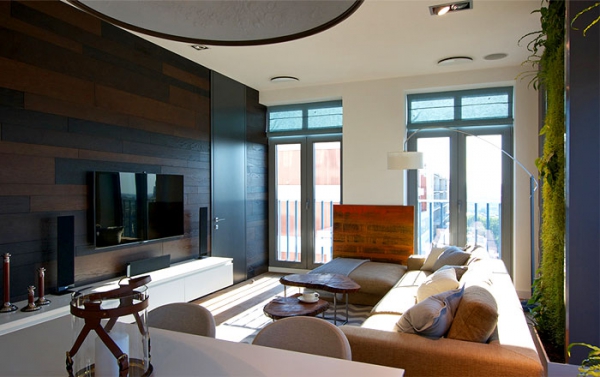 The designers keep the furniture and fittings sharp and minimal to accommodate an array of functions in close proximity to each-other, without cluttering up space. This is extremely beneficial in the social core where the open-planned living, dining and kitchen come together in balance and beauty. Instead the walls and floors take over to add charm and character to the space. The most arresting feature of these is the living green wall that is a bold step into the future of apartment decor. Warm wood flooring, seamless white surfaces and rich striated wall panels also contribute, creating a stylish contrast in finish that is pleasing to the senses.
This grammar extends into the master bedroom where a touch of industrial chic takes over to create an uninhibited space. Only in the children's bedroom do we find an abundance of details and decoration, scaled to the size and dreams of its occupant. Moving away from sexy blacks, warm browns and supple whites, here we float in a sea of pinks, blues and greys.
Bold and beautiful, the design creates fascinating panoramas through texture and technology. These not only accentuate the interiors and apartment decor, but also frame the outdoor views in style.