A gentle verve and soft profiles come together in sophisticated and luxurious splendor in Hans Place – an inviting and warm private residence. Located a stone's throw from Harrods in an opulent neighborhood of London, this 3-bedroom, 3 bathroom apartment brings together a series of elegantly crafted spaces in a carefully coordinated and restrained palette. Completed in 2010, this project by Roselind Wilson Design epitomizes the beauty and individuality of chic interior design.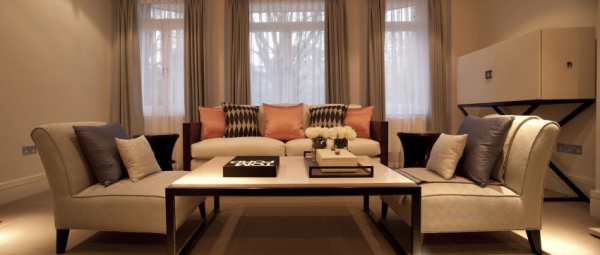 The apartment is rendered in shades of oyster and blue, lending an etheric calmness to the decor. These colors find expression in every element and detail – from the macro-structure to decorative elements. The smart choice of color affords a feminine grace to the space that is anchored steady by dark high gloss timber with black metal trims. Natural white stone accents further reinforce this aesthetic theme, creating sumptuous, generous spaces that revel in the attention given to detail.
The lines are confident and bold, yet hold a delicious delicateness that creates a rich balance of the opposites in this stunning and chic interior design. Textures and patterns are contained by restricting them to individual elements, surfaces and canvases and keeping them humble in scale. The design thereby accommodates a rich variety of materials and textures that are a delight unto themselves, but also come together in subtle and silent harmony. Bespoke furniture and specially commissioned artwork drape the design in panache, adding the final touches that set it apart.
A triumph of poise and taste, this chic interior design is an experience in soft, luxurious impressions, aesthetics and living.