This amazing tropical loft was designed to showcase Deca products at the Casa Cor 2014 – Brazil's largest and most prominent exhibition of architecture and interior design. Visualized by Gisele Taranto Arquitetura, the designers weave a rich composition of texture with contemporary restraint to create a hallmark of modern living in 238 square meters.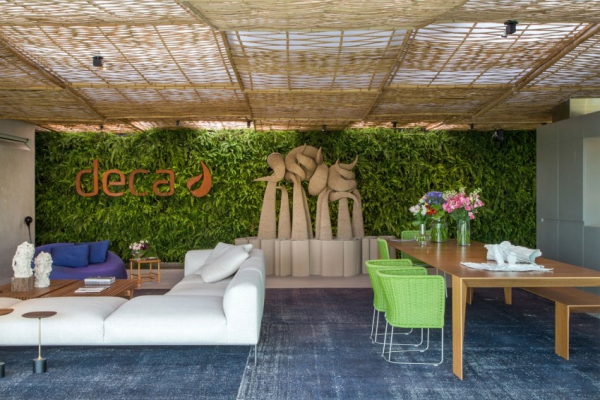 The volume is divided into two distinct zones – private and social – connected across by a green wall and reflecting pool; these not only lower the temperature and contribute to the ambiance, but also provide a linear backdrop against which individual cores come together to create a harmonized living unit. The cabinet segregating the two zones is articulated into the kitchen worktop and storage along the social face and into an extensive wardrobe along the private space.
The design contrasts defined washes of color in an array of organic, intricate textures. These lend an organic appeal to the aesthetic, creating a laid-back, relaxed vibe in a charming, chic space. Instead of laying out the various spaces and functions in a broad stroke, each element and every fitting is paid individual attention. What results is an amazing tropical loft that enthralls with every frame and stimulates with every step.
A carefully considered design that creates a space for inspiration and aesthetic dialogue, this amazing tropical loft is a storehouse of ideas for modern living. We love the elegant intricacy of the space that finds expression in the simplest of gestures.