Talk about luxurious lifestyle, Miami coast has it all! From top resorts, top designers' shops, top chefs' restaurants, this place offers a life experience of ultimate excitement and pleasure. Miami is also a true real estate heaven! Bustling with vibrant multicultural ambiance, and offering excellent job opportunities and good schools, this is not just a 'let's-have-fun' destination, but also a family-friendly place to live in.
Miami properties are among the most luxurious ones in the world, offering much more than just comfortable homes. A flat or a house, every property here is designed, equipped and furnished with style and attention to the detail, providing ultimate comfort and contemporary top living conditions and amenities.
Today we walk you through five amazing properties.
Hyde Beach House Hollywood
Set on the picturesque Atlantic Ocean waterfront, the Hyde Beach House offers top-end resort-style living with Hollywood charm. The building boasts spacious open floor-plans, ultimate contemporary amenities, and high style services.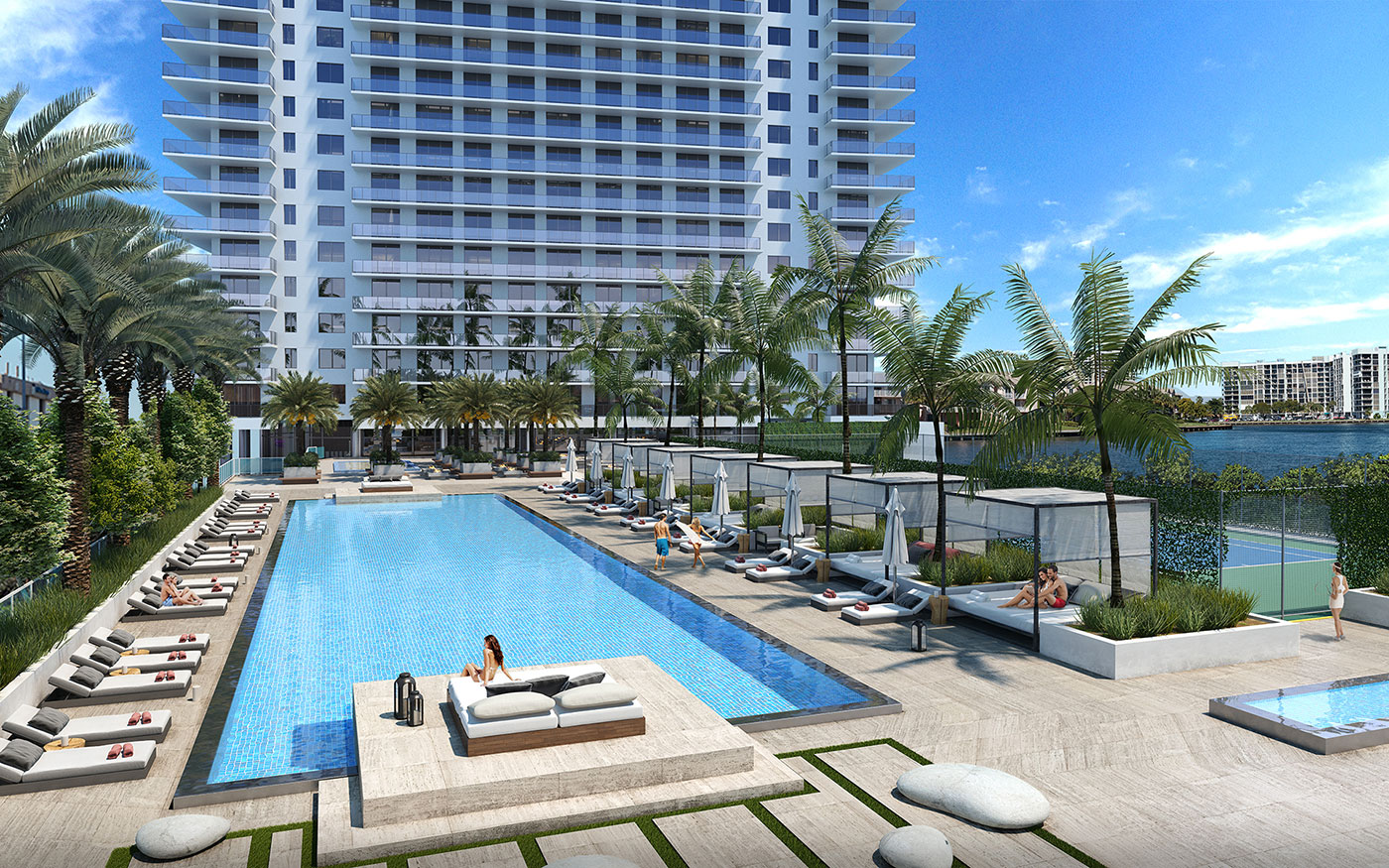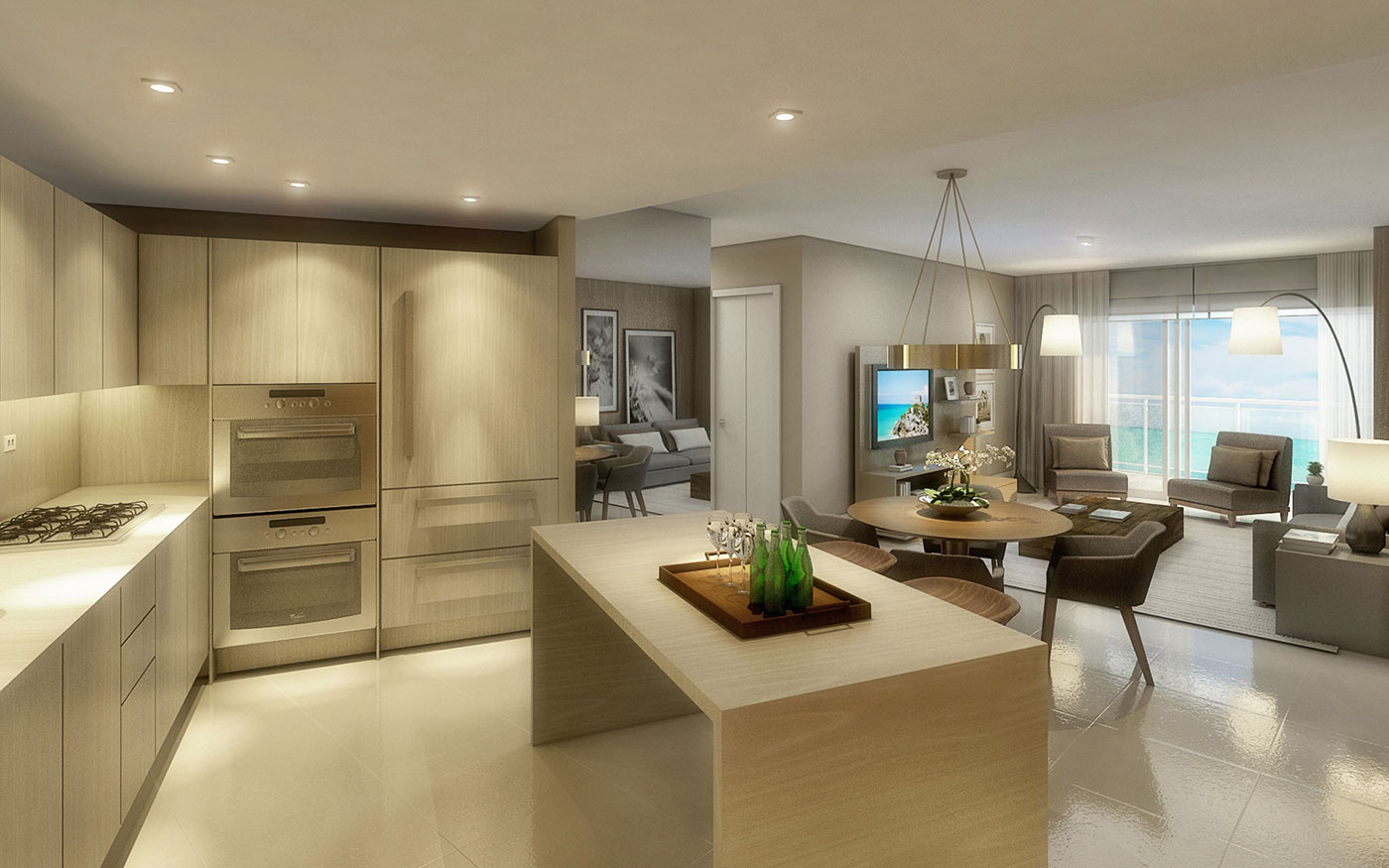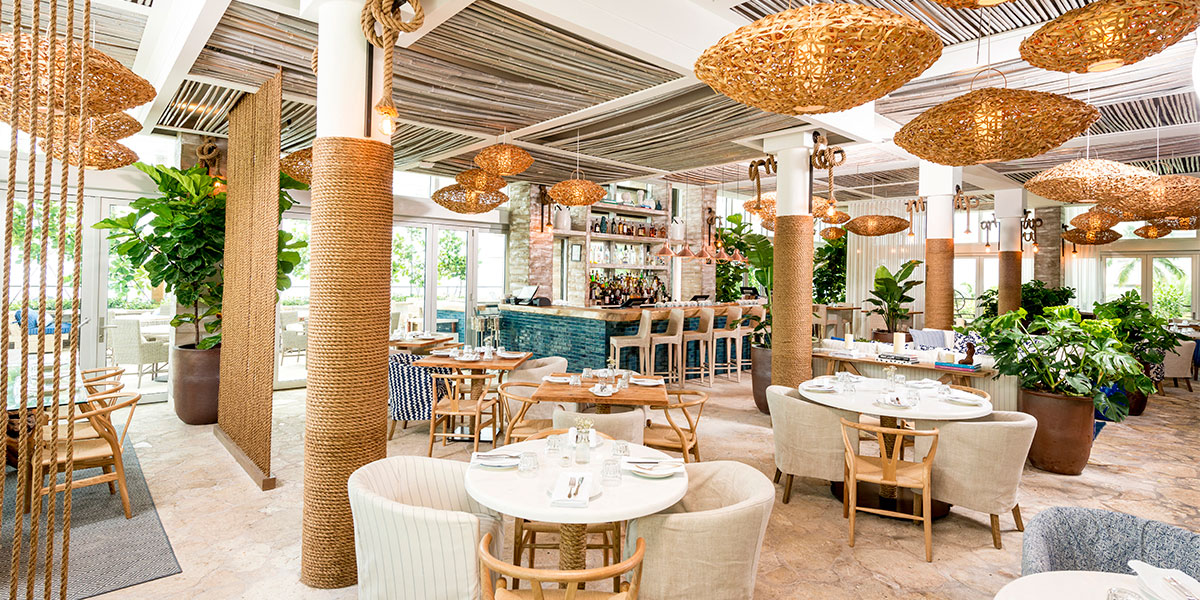 Hyde Beach House has 265 resort and 77 residential 1, 2 and 3 bedroom condominiums with unrestricted use rights. All properties are stylishly finished and furnished, featuring beach-inspired interiors in contemporary European style. Open plan spaces, floor-to-ceiling window walls, and wide private terraces blur the line between indoor and outdoor, providing spectacular panoramic views.
A personal concierge, top security, complementary valet parking, room service, excellent housekeeping, etc. professional services are available 24/7 to make life easy and carefree for all residents. Read more here.
La Santa Maria Brickell
The 51-story sparkling white tower of La Santa Maria Brickell is an architectural jewel in Miami skyline. It rises at a prime waterfront location in Biscayne Bay, and provides the ultimate luxuries of a high-style life. The building offers 173 residences to rent and buy, with every detail being carefully designed and every service perfected to a professional level, to satisfy and please.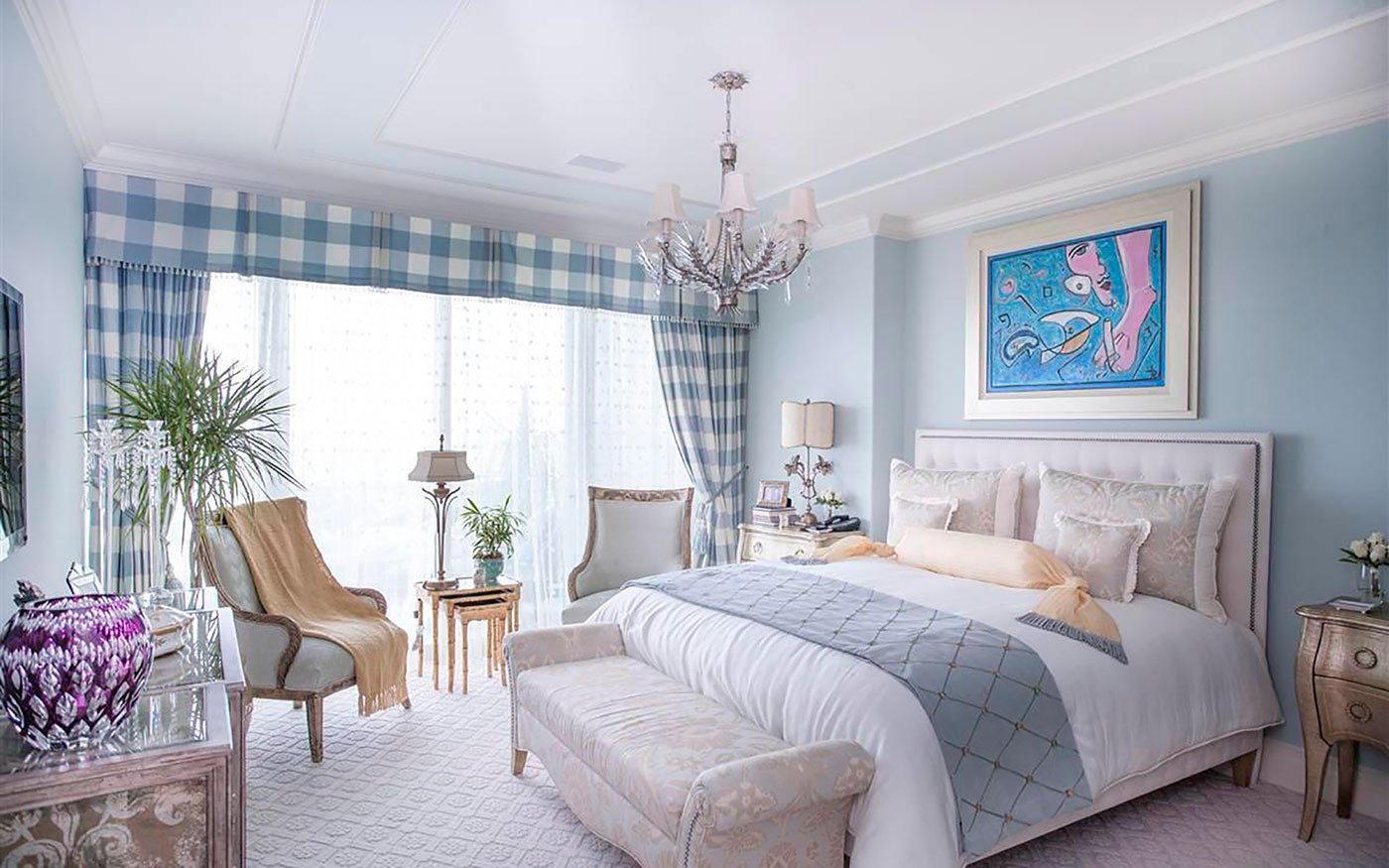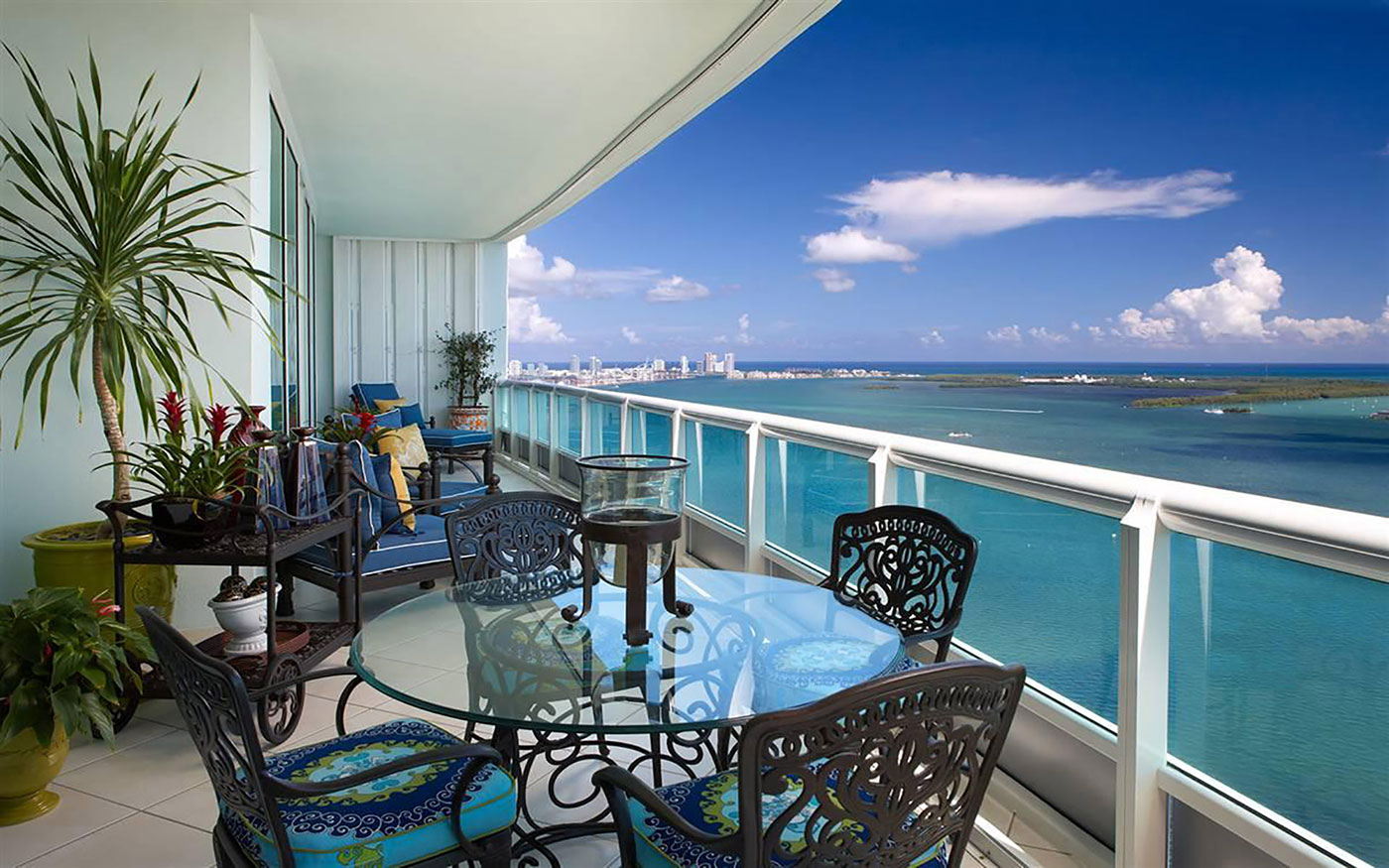 The spacious interiors are complemented by exquisite contemporary furniture and top-notch facilities. It's a life up in the air, with glass walls and glass balconies revealing spectacular views and flooding the residences with light and ocean breeze.
In secured privacy, residents can enjoy multiple contemporary amenities, like tennis and racquetball courts, a lap pool and luxurious Jacuzzi. Read more here.
Echo Brickell
The Echo Brickel skyscraper is a modern boutique residential condominium, set in a premium location in the heart of Miami cosmopolitan area. The building is an iconic definition of living in luxury, comfort and opulence.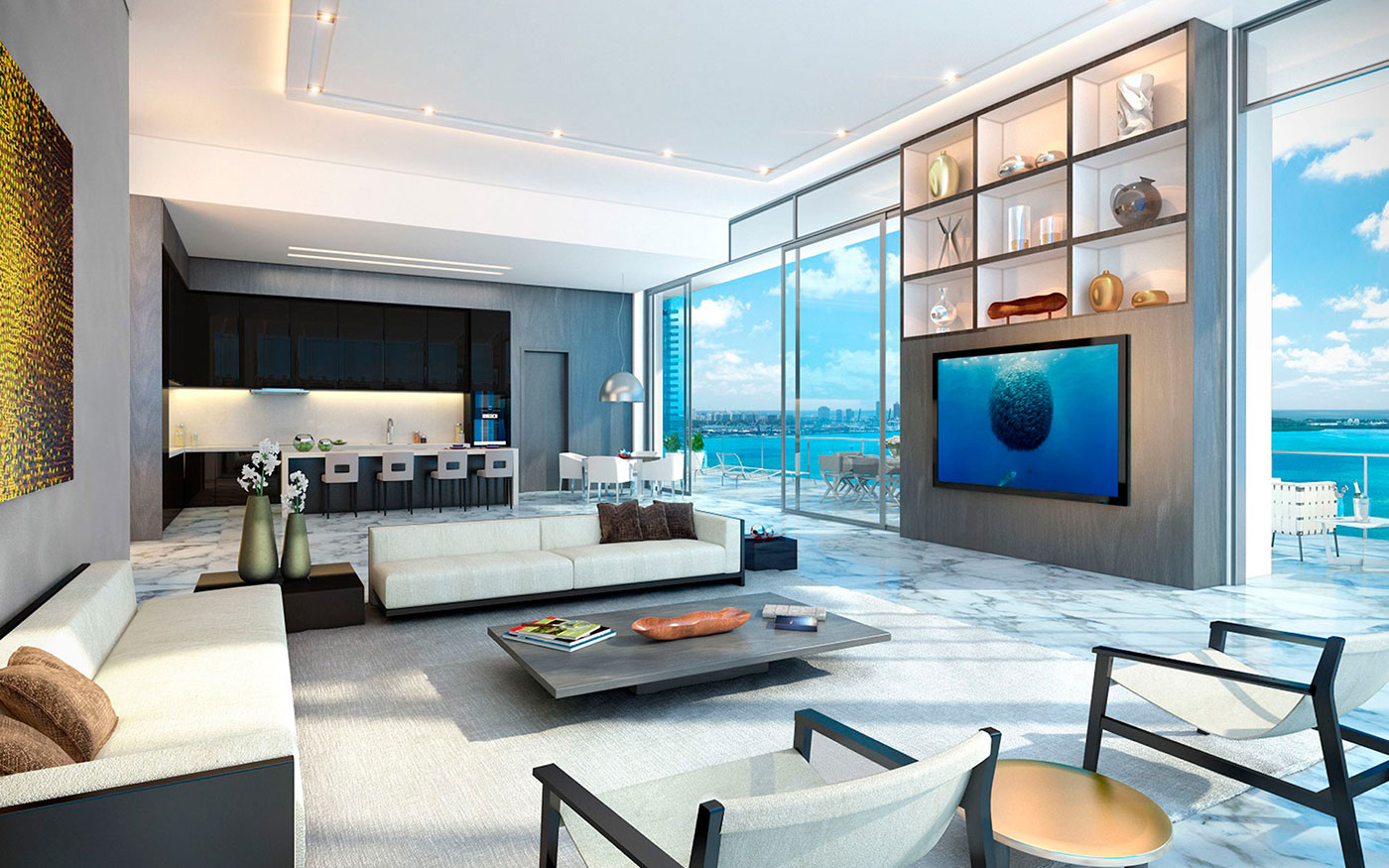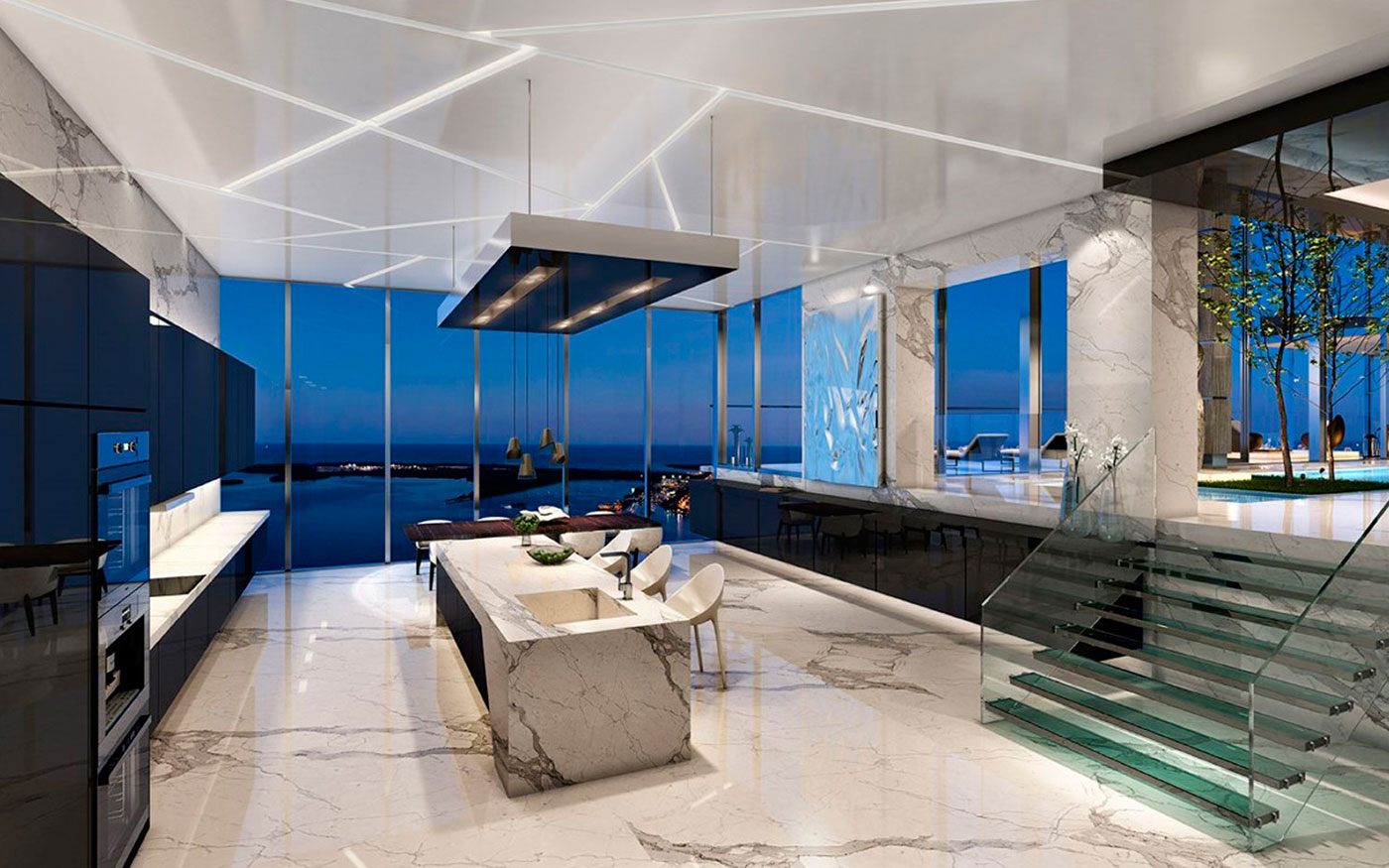 All 180 residences feature spacious open-plan layouts, providing mesmerizing views to the city and the ocean through floor-to-ceiling window walls. Latest built-in technology meets elegantly styled interiors, featuring luxurious furniture and designer art.
Everything at Echo Brickell is designed and provided to let its residents enjoy the best of life in lavish luxury. The building boasts opulent amenities, among which a full floor infinity pool, relaxing hot-tubs, a sunbathing deck, and a large spa. All common areas, as well as each private residence, are provided with 24/7 high-standard professional services. Read more here.
Icon South Beach
Rising over the Biscayne Bay, the Icon South Beach 40-story S-shaped tower is one of the hottest Miami properties. It has 289 residences designed to perfection to suit the sophisticated taste of anyone looking for luxurious lifestyle. All 1 to 6 bedroom condos impress with 9-foot high ceilings, spacious open plan layout, panoramic glass walls, and high-end luxurious finishes, completed by stunning views to the city and the ocean.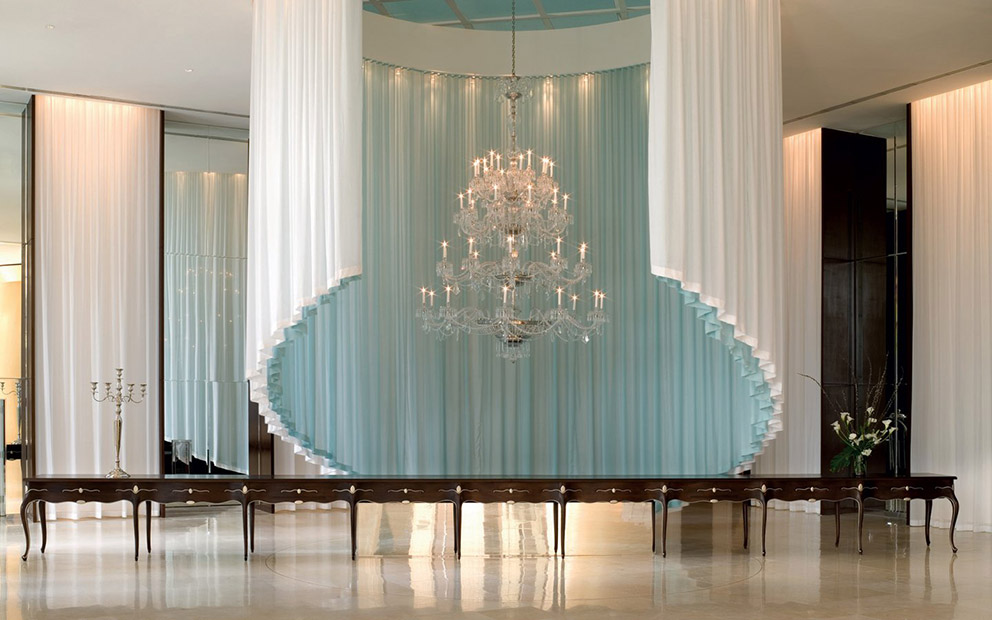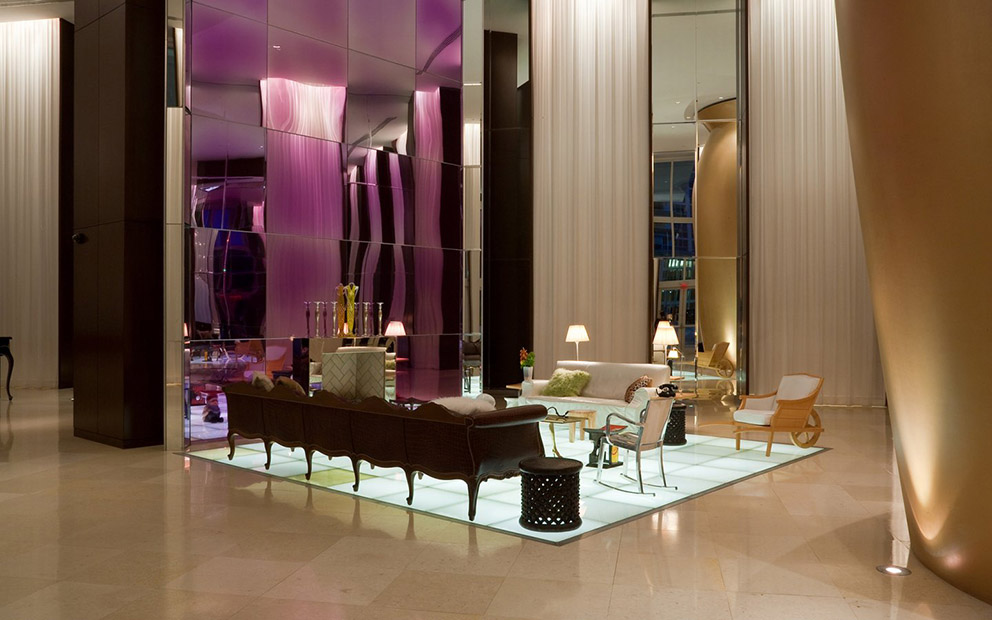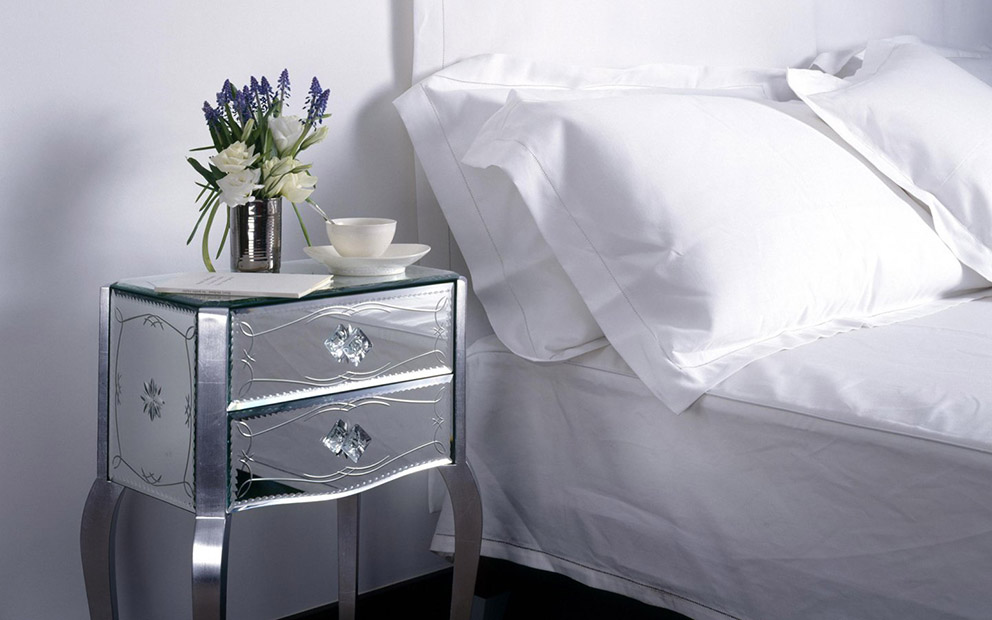 Comfort and luxury is the key in the interior design. Walk-in closets, state-of-the-art kitchens, European cabinetry, as well as luxurious materials like marble, granite, and high quality porcelain, are featured in every room.
Residents of the Icon South Beach can enjoy 24/7 available professional services at all high-class amenities. Starting the day with a delicious breakfast in the privacy of your own residence or at the cozy café can then be extended by a few hours just relaxing at the infinity pools, enjoying the sun and the fantastic views. Icon South Beach also offers a business center, a billiard room and close access to some of the best Miami schools. Read more here.
Paramount Bay
Paramount Bay is a premier residential development, set in the very heart of Miami exciting urban area, yet secluded in a private oasis offering peace, comfort and luxury. Its unique location is complemented by stunning architecture, sophisticated modern interiors, and luxurious resort-like amenities.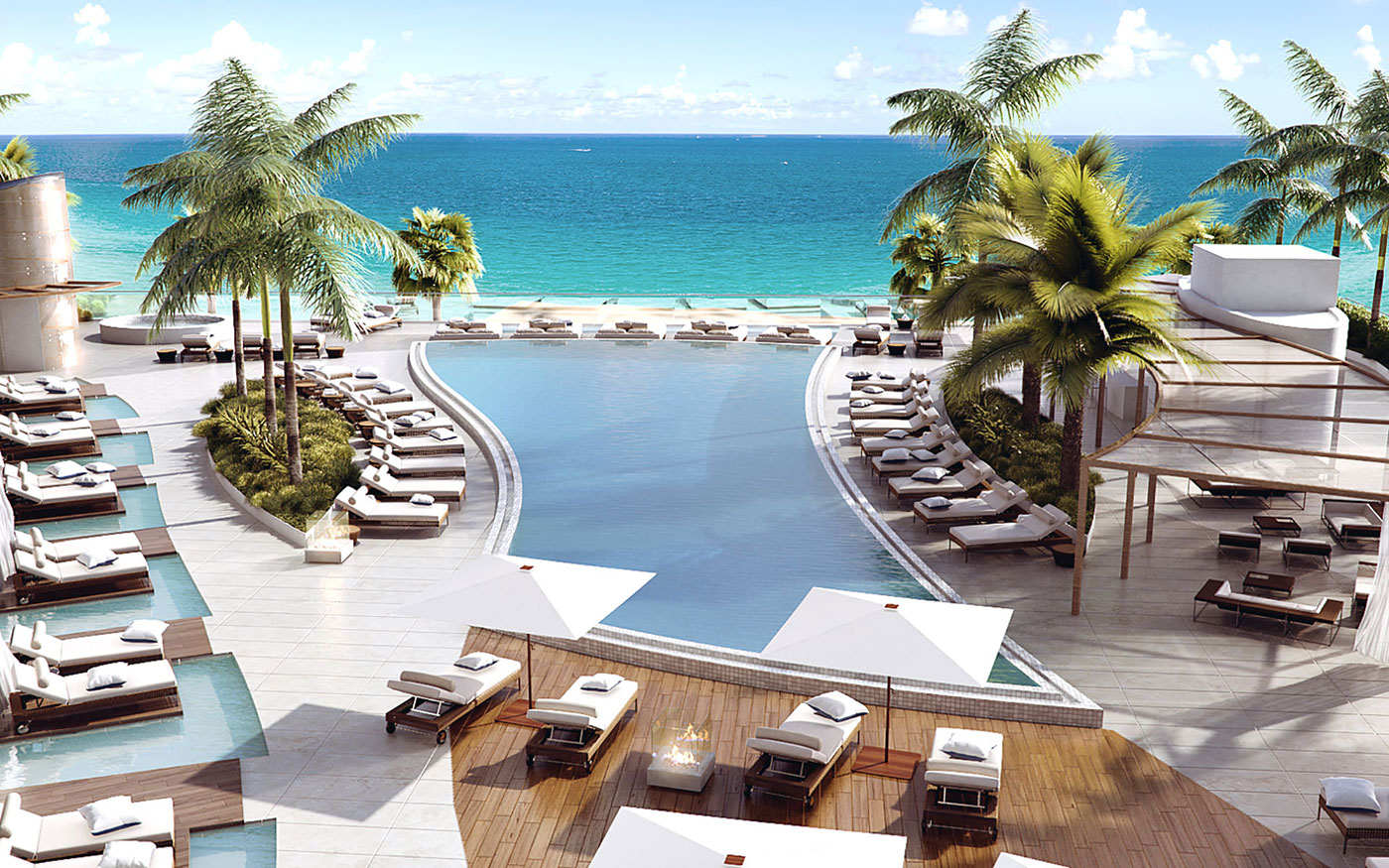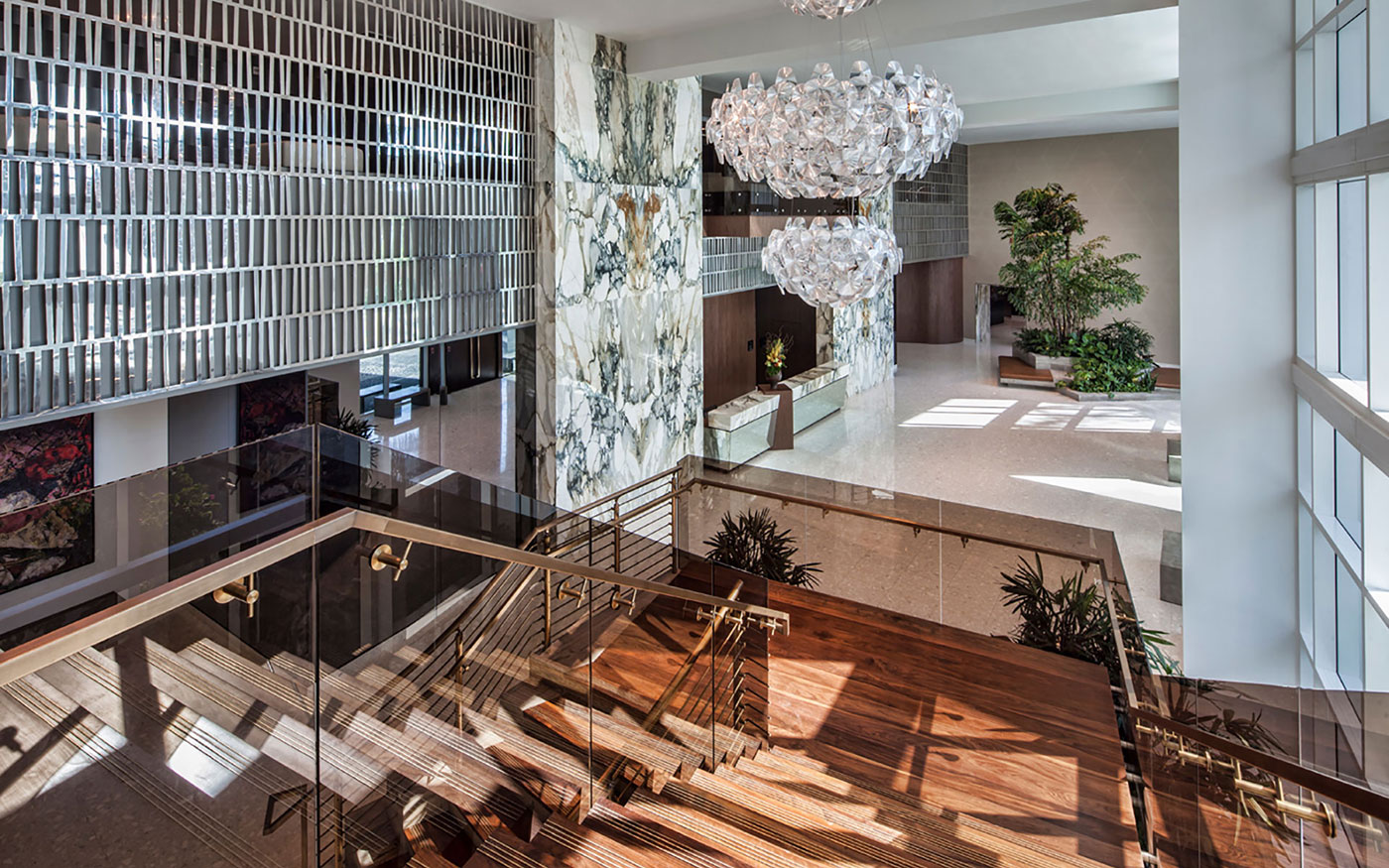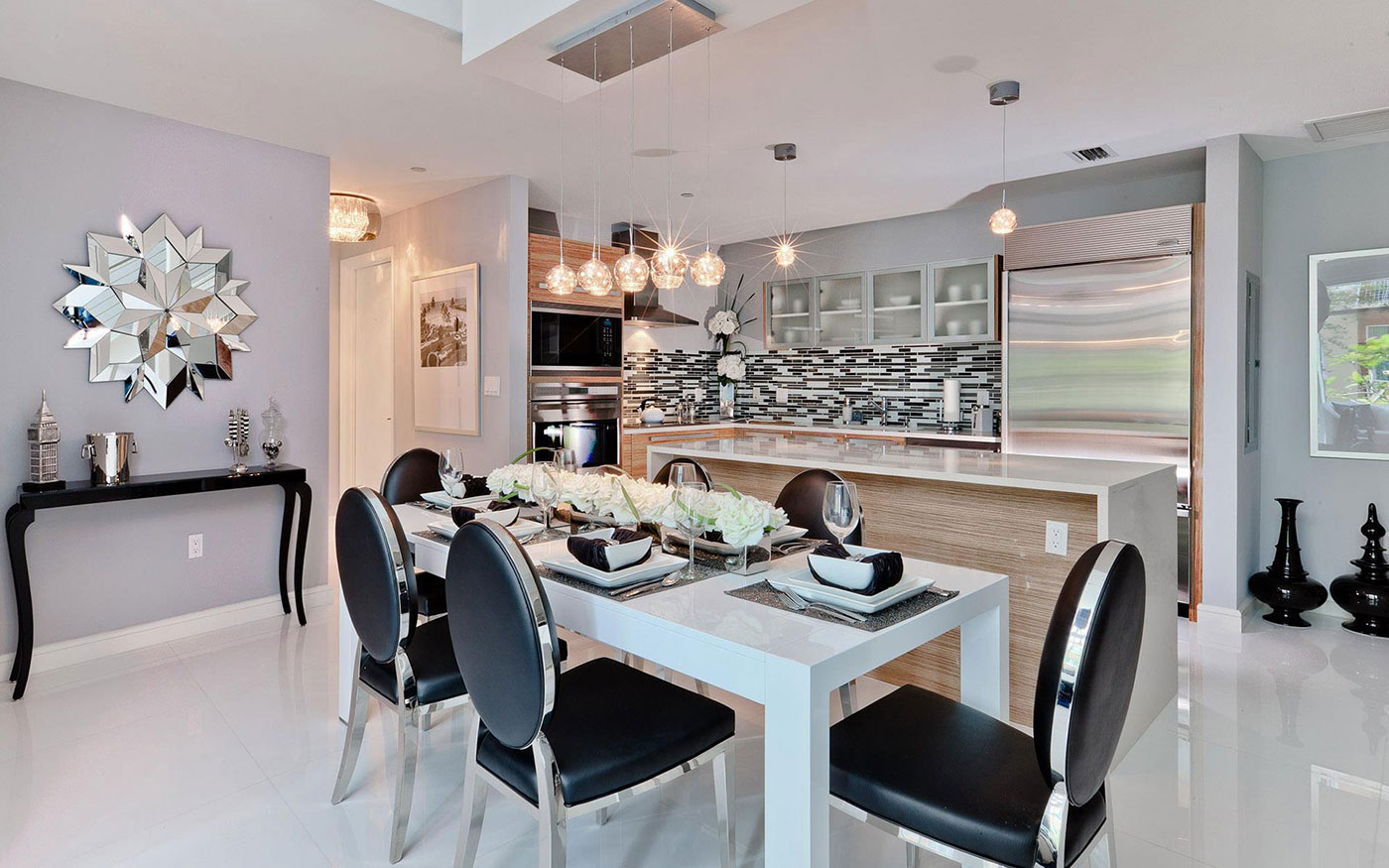 Envisioned by Lenny Kravitz, this real estate is the ultimate personification of the high lifestyle of the stars. Every detail is carefully thought of and designed to satisfy both, artistic taste as much as any extravagant caprice, with top priority to excellence and perfection in every aspect.
At Paramount Bay residents are treated like VIPs! They have the exclusive privilege to use a private beach club, a teen club, luxurious areas for having parties and private events, as well as complementary access to restaurants with top-class chefs, watersports facilities and family-friendly open green areas with plenty of entertaining activities. Read more here.