This cool design is by Jeff Koons. It is apart of his Celebration Series and it is called Tulips. Located in the Wynn Las Vegas, it is three tons of stainless steel and transparent color coating. The five versions of this cool design represent a bouquet of twisted balloon flowers, and they explore the concept of child-like innocence.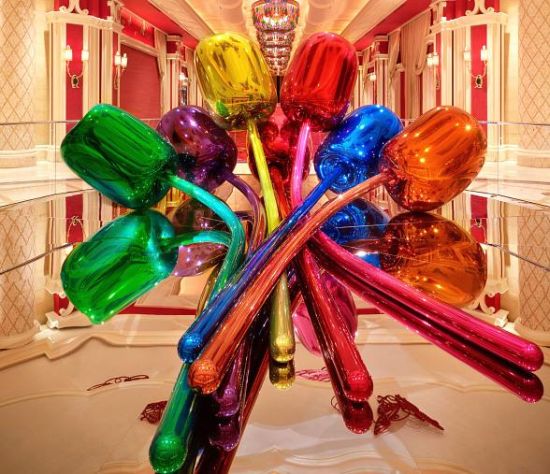 The cylinder shape of this cool design is the tulip balloon. We absolutely adore the gorgeous shape and the indentation at the top. The wonderful lines are the stem and the balloon string. The circular ends at the end of the stem add an amazing amount of interest to this beautiful design. The balloon bouquet is put together in no particular order, adding a dose of spontaneity and excitement. We love how the two stems cross over the other stems, contributing a sense of marvelous disorganization. The bright colors provide a sense of cheer and wonderment, transporting us back to the days that were filled with carnivals and cotton candy. The mirrored foundation, in this space, amplifies and enhances the reflective element in this marvelous sculpture.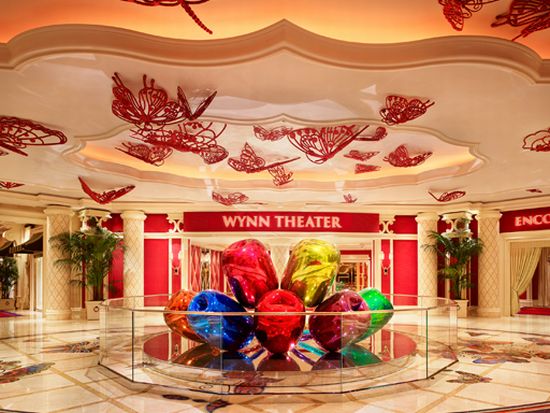 The design brings a fascinating wonderland quality to the entrance of the Wynn Theater. The butterflies and the vintage feel of the theater beautifully complement the child-like and spirited feel of the sculpture.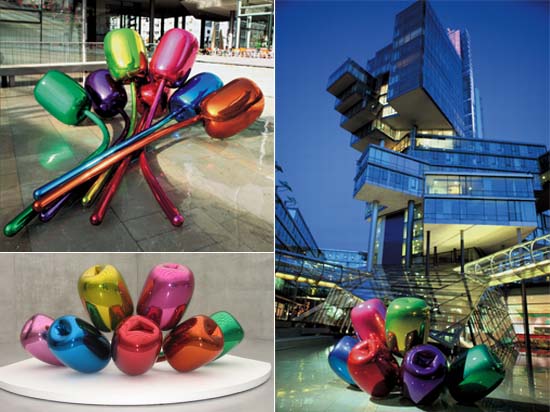 This cool design looks fantastic in almost any setting and with any foundation although our favorite is when the sculpture is placed directly on the ground. The white foundation illuminates the brightness of the sculpture, creating an outstanding contrast between the white and the colors.
We love the spirit that this design captures. It reminds us of Ferris wheels, summer fairs, and simpler times. This is a piece of art that will definitely add delight, cheer, and a bit of nostalgia, wherever it goes.